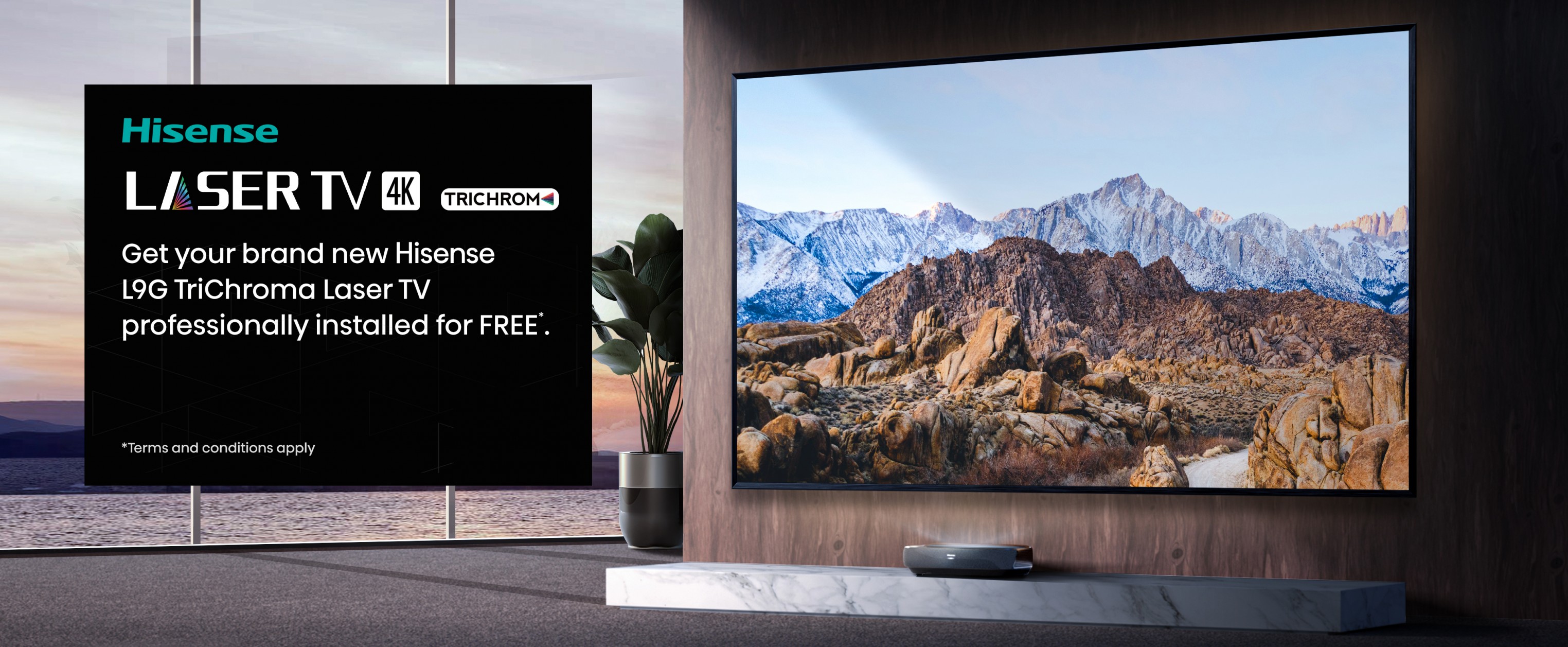 L9G TriChroma Laser TV Free Installation Promo
General Terms and Conditions:
Get Free Professional Installation on your Brand New L9G TriChroma Laser TV:
As a special launch offer for Hisense's long-awaited L9G TriChroma Laser TV, qualifying purchases of the L9G TriChroma Laser TV are eligible for an in-home, professional installation valued at $475, for FREE. Simply complete the Installation Request Form below and attach your Proof of Purchase from an authorized retailer and you'll be contacted by the installation service provider to setup your installation appointment.
How to Request your Installation:
Fill out the request form with all required information. Hisense has contracted with a 3rd party installation service provider to schedule and provide the installation service. You will be contacted by the service provider at the phone number and/or email submitted with your installation service request to schedule an appointment.
What's Included:
Free BASIC in-home installation of your brand new L9G TriChroma Laser TV, including:
Removing product from packaging materials
Screen assembly (if applicable)
Installation of mounting brackets to wall
Hanging and levelling screen on mounting brackets
Aligning projection to screen
Basic cleanup of installation area
What's Not included:
Anything outside the BASIC installation described above which includes, but is not limited to:
Removing existing TV products or brackets from wall-mounting location
Disconnecting and/or reconnecting home audio, media devices, cable boxes, or other ancillary TV components
Setting up internet connection to device
Logging in to streaming application services
Disposal of packaging materials
Promo Eligibility:
Consumers must submit their installation request between the dates of September 10, 2021 12:00:01 a.m. Eastern Time to October 31, 2021 11:59:59 p.m. Eastern Time to be eligible for free installation. Requests received outside this window will not be eligible for the free installation promotion but can be fulfilled at the requester's expense.
All form fields must be filled out as accurately as possible and a valid Proof of Purchase (receipt) must be submitted with the request.
Installation may not be available in all remote locations.
For full Terms and Conditions of the L9G TriChroma Laser TV Free Installation Promo please click here.
Hisense L9G Installation Request
Thanks for submitting your installation request. We are validating the information you submitted. If all information looks in order you can expect to be contacted by email within 72 hours to set up your installation appointment. Thanks for buying the L9G, we hope you love it.
For questions or concerns regarding your installation request or L9G TriChroma Laser TV, please contact Hisense support by email at service@hisense-usa.com.